We can help you with every step along the way to a great new product. Simply give us a call or send us an email. We are here to help.
Phone number: (800) 208-1726 Email: support@pentalogix.com
Engineering
Fabrication Files
Manufacturing
Block Diagram
Schematic
PCB Layout
Firmware
Bill of Materials
Gerber Data
Drill Data
Rout Data
Centroid Data
Panelization
Firmware Files
PCB Fab
Electronic Assembly
Testing
Box Build
Block Diagram
When you start your project, it's a good idea to build a block diagram of the overall PCB design.  Identify each of the major parts of the design.  Show how they connect together.  The block diagram helps you visualize the overall design concept.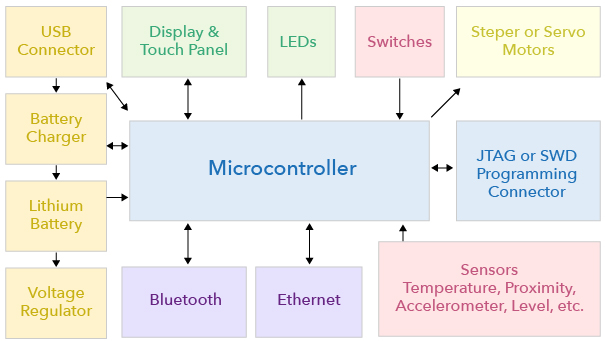 Schematic
Creating a schematic solidifies your PCB design and makes it very specific.  At this stage, the detailed design is completed.  Parts are selected.  Schematic symbols and PCB footprints are generated for each part.  A Bill of Materials is generated that defines all of the parts in your design.
PCB Layout
Once the schematic is complete, we continue to PCB Layout.  This is where we create the physical design of your product.  Components are placed.  Signals are routed.  We ensure that the design will fit into the desired packaging space.  Numerous PCB design rule checks are performed to ensure the design meets the required specifications.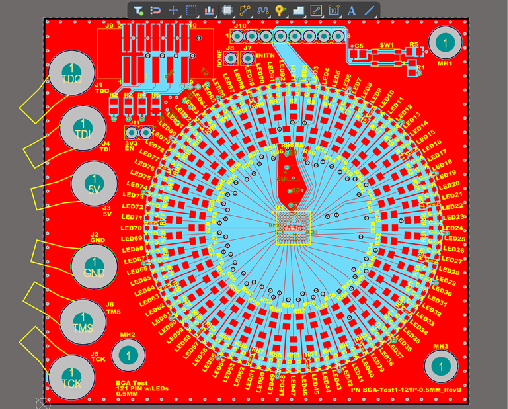 Fabrication settings are established and output files are generated

Gerber Data, Drill Data, Rout Data & Centroid Data
Gerber Data describes the various PCB elements in your design. The copper patterns, the silkscreen, the solder mask and the solder paste are all defined on separate Gerber "layers". Drill data defines both plated and non-plated holes. Noncircular cutouts in your board are output as N/C Rout files. These cutouts can be either plated or non-plated. Centroid data is created that defines placement information for each component on the board. This centroid data is used to program a pick and place machine to automatically assemble your board.
We check the fabrication files against a set of DFM (Design for Manufacturability) rules. This ensures that your PCB manufacturer does not encounter any problems during the manufacturing cycle. By performing extensive DFM checks, we can ensure that your design will not be placed on hold by the PCB manufacturer.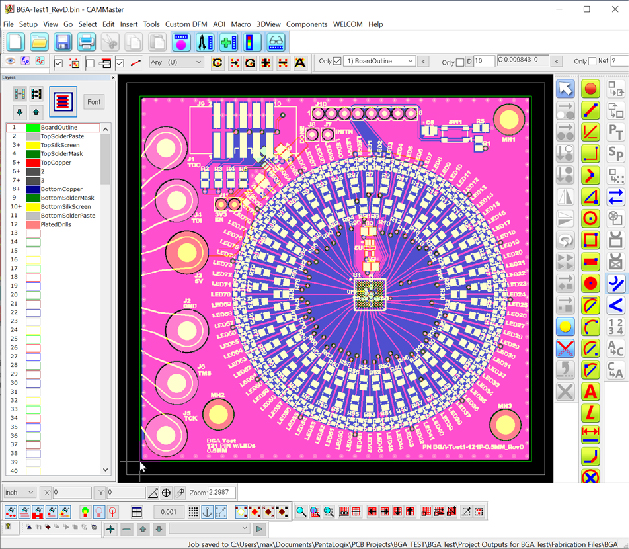 PCB Fabrication
You have choices to make about where to manufacture your PCB.  We offer very high-quality boards made in the USA.  We like to promote products made here at home.  But we also offer boards fabricated offshore when cost is the most important factor.  We have carefully selected and qualified several offshore PCB fabrication partners.  We only use partners that can satisfy our quality criteria.
PCB Electronic Assembly
We have our own in-house PCB Assembly lines with top-of-the-line equipment.  We can assemble your product . . . whether you only need a couple of prototypes . . . or if you need thousands.  We also manufacture our own stencils . . . there is no added delay waiting for a solder paste stencil to arrive from another source.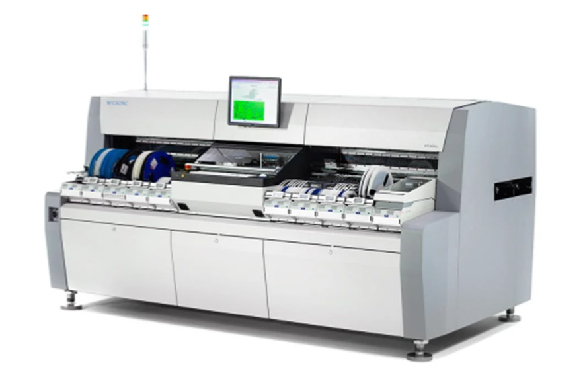 Firmware
Designs that incorporate microcontrollers, FPGAs, or CPLDs require firmware, but the process is often quite complex.  Complicated designs that need to respond to real world events in a timely manner may even incorporate real time operating systems.  We can help address your needs with system design, integration and embedded code programming.  At the end of the process, design files are created that will need to be loaded into the microcontroller, the FPGAs and/or the CPLDs.  Need help programming, or need custom hardware designs to do your own programming in-house?  We can do that, too!
Testing
You will want to make sure that your product works as intended before you ship it to your customer.  You don't want to spend more time testing your product than is necessary, but you also don't want to leave out any important steps.  We can help create effective test strategies ranging from manual hand checks all the way up to fully automated test equipment for large volume production environments.  Not sure what kind of testing is sufficient?  Let us help.
Box Build
Need help assembling your final product?  We can help with final product integration and with preparing your product for shipment to your customer.
Summary
When you choose us as your development partner, we will be there with you every step of the way.  We'll send you regular status updates during the development cycle.  At the conclusion of the project, you will receive project design files and all of the files you need to fabricate your product.  If you choose, you can also have us fabricate, assemble and test your boards.  We look forward to working with you!